The Hall of Fame celebrates alumni and close friends of Berkeley Haas who have achieved greatness in their careers and exemplify the school's four defining leadership principles: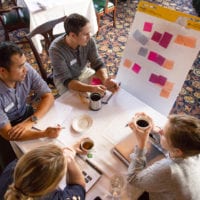 Question the Status Quo
Confidence Without Attitude
Students Always
Beyond Yourself
These individuals are the kind of innovative leaders who redefine the way business is done.
Scott Adams
MBA 86
Creator of Dilbert
Adams is the creator of the "Dilbert" cartoons, published in over 2000 newspapers in 65 countries. This work, he says, is inspired by the "variety of humiliating and low paying jobs" he held. In addition to maintaining the "Dilbert" empire, Adams writes a blog and is the author of several nonfiction works.
Margo Alexander
BS 68
Former Chairman and CEO of UBS
Margo Alexander is the former Chairman and CEO of UBS Global Asset Management. She spent thirty years in finance, starting as a research analyst and later directing major businesses in equity research, sales, and trading. Alexander is the former Board Chair of Acumen Fund where she currently serves as Chairman of the Social Impact Investing Committee. She is on the Haas School Board and is a member of the Council on Foreign Relations.
Ralph Bahna
MBA 65
Former chairman, priceline.com & Founder and Former Chairman, Club Quarters
After a distinguished career in the travel industry, the late Ralph Bahna was chairman and founder of Club Quarters, an international chain of private hotels in city centers. He was also chairman of priceline.com, the "name your own price" travel booking engine.
Richard Blum
BS 58, MBA 59
Founder, Chairman, and President of Blum Capital Partners
Blum is the Founder, Chairman, and President of Blum Capital Partners, LP, which manages $4 billion in capital. He is also Founder and Chairman of the American Himalayan Foundation. Blum was honored with the school's 2009 Lifetime Achievement Award and is Chair of the Haas School Board.
W. Michael Blumenthal
BS 51
Former Secretary of the Treasury
"Secretary of the Treasury under Carter, Blumenthal also served as an Ambassador and Deputy Special Representative under Kennedy and Johnson. He was Chairman of the US delegation to the Kennedy Round of Trade Negotiations. He served as CEO of Bendix, Burroughs, and Unisys Corporations. He holds numerous honorary degrees, serves as President and Chief Executive of the Jewish Museum Berlin, and was awarded the Senior Medal of Merit of the Federal Republic of Germany."
D. Kirkwood Bowman
MBA 67
Co-Founder, Inman & Bowman
"Bowman co-founded Inman & Bowman, a high-technology venture capital firm formed in 1985. Prior to that he was a General Partner of Hambrecht & Quist and a Senior Investment Partner with their venture capital group. He is currently on the advisory boards of Amadeus Capital Partners and Industry Ventures. Mr. Bowman also serves as a Regent of the University of the Pacific and is Chairman of its Investment Committee. "
Helen Bulwik
BS 71, MBA 72
Founder, New Market Solutions
With a distinguished career in retailing, merchandising, and global sourcing, Bulwik served as CEO of six middle market consumer companies prior to founding her consulting firm, New Market Solutions. She is nationally recognized as a leading consumer strategist and retail analyst. She is a sought after speaker frequently quoted in the news media. At New Market Solutions, she has advised senior management of more than seventy of the top 100 Global consumer companies.
M. Anthony Burns
MBA 65
Managing Owner, Red Ledges Land Development, Inc.
Burns is chairman emeritus of Ryder Systems, having retired in 2002 after serving in several key leadership positions. He serves on the boards of Pfizer Inc. and Huntsman Corporation. He is a former director of the U.S. Chamber of Commerce and has served on the boards of United Way, Stanley Black & Decker, JPMorgan Chase & Co., American Red Cross, National Urban League, Boy Scouts of America, and J. C. Penney Company, Inc. He is a life trustee of the University of Miami.
Tom Byers
MBA 80, Phd 83
Stanford University Professor
Byers is a professor at Stanford University, where he focuses on technology entrepreneurship education. He is founder of the Stanford Technology Ventures Program (STVP), which serves as the entrepreneurship center for the engineering school. Byers received the Gordon Prize from the National Academy of Engineering and received Stanford's Gores Award, the school's highest honor for teaching excellence. Tom was Executive Vice President and General Manager of Symantec during its formation.
Dennis Cakebread
BS 75
Co-owner and SVP of Sales and Marketing for Cakebread Cellars
Cakebread is Co-owner and SVP of Sales and Marketing for Cakebread Cellars. He has been a Board Member/President of the Napa Valley Vintners Association, Board Member/ President of the Wine Service Cooperative, and Board Member of the Family Winemakers of California. He is on the boards of the Wine Institute, FreetheGrapes, and Coalition for Free Trade. His proudest activity was coaching and being President of the St. Helena Little League.
John B. "Jack" Caouette
MBA 70
Chairman of Channel Capital Group
Caouette is Chairman of Channel Capital Group, a Europe-based credit derivative products company. He was Vice Chairman of MBIA Insurance Corporation, Founder, Chairman, President and CEO of Capital Markets Assurance Corporation and CapMAC Holdings, and Senior Vice President and General Manager, Foreign Exchange & Money Market Division, Continental Grain Company. Caouette has published a book and contributed chapters to other credit risk resource books.
Yuk-Shee Chan
MBA 76, MA 81,
PhD 82
President of Lingnan University of Hong Kong
Chan is President of Lingnan University. Prior to that, he was the VP for Academic Affairs at the Hong Kong University of Science and Technology (HKUST). Chan has served as a director of the Graduate Management Admission Council (GMAC) and AACSB International. He was appointed Justice of Peace in 2003 and awarded the Bronze Bauhinia Star (BBS) in 2005 by the Hong Kong Government for his meritorious public and community service.
W.F. "Rick" Cronk
BS 65
Former President of Dreyer's Grand Ice Cream
Cronk is the former President of Dreyer's Grand Ice Cream, which he purchased in 1977 with T. Gary Rogers. Together they transformed Dreyer's from a local ice cream brand with $6 million in sales, to the largest ice cream company in America, with annual revenues exceeding $2 billion. Rick is Chairman of the World Scout Committee and is involved in California public school reform.
Steve Crowe
BS 69, MBA 70
Former CFO for Chevron
As Chevron's Chief Financial Officer, Crowe played a pivotal role in the contested but successful acquisition of Unocal. He joined Chevron, a 130-year-old energy company and the third-largest corporation in America, in 1972, and served in a variety of roles, including Corporate Officer, Vice President, and Comptroller. Crowe is a native of the San Francisco Bay Area. He served two years of active duty in the US Navy.
Barbara J. Desoer
MBA 77
CEO of Citibank N.A.
As CEO of Citibank N.A., Desoer is in charge of corporate governance of Citibank in more than 100 countries around the globe. Previously, she was COO of Citibank N.A. and president of home loans for Bank of America, where she ran the combined mortgage unit after the bank's 2008 purchase of Countrywide Financial. She currently serves on several boards, including United Way of Central Carolinas.
Daniel J. Duckhorn
BS 60, MBA 62
Co-Founder, Chairman, and CEO of Duckhorn Wine Company
Duckhorn is Co-Founder, Chairman, and CEO of Duckhorn Wine Company and a leader in the Napa Valley wine community. He has served on the board of the Wine Institute, the American Vintners Association, and Family Winemakers of California. He was president of the Napa Valley Vintners Association and the Wine Service Co-op and is a past chair of the Napa Valley Wine Auction.
Donald G. Fisher
BS 50
Founder and Chairman Emeritus of Gap Inc.
The late Donald Fisher was Founder and Chairman Emeritus of Gap Inc., one of the greatest success stories in retailing history. He was named Retailer of the Year Award in 1996 by the National Retail Federation. Fisher served on the boards of SFMoMA, Teach for America, and the Boys and Girls Club of San Francisco. He was also a Governor of the Boys and Girls Clubs of America.
H. Gifford Fong
BS 67, MBA 69, JD 71
President, Gifford Fong Associates
Fong is President of Gifford Fong Associates. He is Editor of the Journal of Investment Management; member of the North American Regional Executive Board of MIT; member of the MIT Sloan Finance Group Advisory Board; a UC Foundation Trustee; and member of the Investment Advisory Group of the UC Regents Committee on Investments. Fong has written and edited several books and has contributed to a number of other publications.
Michael R. Gallagher
BA 67, MBA 68
Former CEO of Playtex Products
As a packaged goods industry executive, Gallagher served as CEO of Playtex Products, CEO of L&F Products, and Corporate VP and General Manager for The Clorox Company. He has received the Watson Rogers Lifetime Achievement Award from the National Food Brokers Association and has been Chairman of The United Way and the Boy Scouts of Bergen County, NJ. He serves on the board of Allergan and the Haas School Board.
John Garamendi
BS 66
United States Congressman
"Garamendi, Lieutenant Governor of California, was the state's first elected Insurance Commissioner (1991), following service in the State Assembly and the Senate. Clinton appointed him Deputy Secretary in the U.S. Department of Interior in 1995. He has been a Peace Corps volunteer, Academic All-American football player and champion wrestler, and considers health insurance for all, the protection of our environment and improving education his top priorities."
Kirk S. Hachigian
BS 82
Chairman, President, and CEO of Cooper Industries
Hachigian is Chairman, President, and CEO of Cooper Industries, a $6 billion global manufacturer of electrical products and tools. He previously held key management positions with GE and Oak Industries, and was a consultant with Bain & Company. Hachigian serves on the boards of PACCAR Inc., the National Electrical Manufacturers Association, National Association of Manufacturers, and the Houston branch of the Federal Reserve Bank of Dallas.
Leo B. Helzel
MBA 68
Entrepreneur
Helzel has juggled multiple careers, including CPA, attorney, board chairman, investor, and entrepreneur, as well as being a long-time force in the classroom. He taught the original class on "Entrepreneurship" at Haas, one of the first such courses taught at an American graduate school of business. He also taught International Business and Commercial Law. Helzel has served on the Haas School Board, Golden Gate University, California College of the Arts.
Steve Herrick
BS 60
President of Continental Capital Corporation
Herrick is President of Continental Capital Corporation, one of the very first venture capital firms. He founded a Japanese auto parts import firm on $100 in the 60's, which became the largest Japanese aftermarket specialty distributor in the USA. That experience led him to help develop a program to bring Berkeley professors to Japan to study competitiveness issues. He serves on the board of Hitachi Automotive Co.
Mike Homer
BS 81
Former Chairman of Kontiki
The late Mike Homer was the Chairman of Kontiki, an innovative software company that delivers digital video. He advised several successful Silicon Valley startups including Palm and TiVo. He was a Senior Vice President at America Online and held several executive positions at Netscape Communications, including Executive Vice President and General Manager.
Ivan Houston
BS 48
Former CEO, Golden State Mutual Life Insurance Company
Ivan Houston led Golden State Mutual Life Insurance Company to achieve $5 billion in insurance business across 22 states. He was named a Harvard Business School American Business Leader of the 20th Century and included on Ebony Magazine's "100 Most Influential Black Americans" for 14 consecutive years. A decorated veteran, Houston published a memoir in 2011. Black Warriors: The Buffalo Soldiers of World War II, details his experiences as a member of that war's only black infantry division to fight in Europe.
Grant M. Inman
MBA 69
Head of Inman Investment Management
Inman runs Inman Investment Management. He has served as a General Partner of Hambrecht & Quist and as a Senior Investment Partner with their venture capital group. He also directs two public companies: Lam Research Corporation and Paychex, Inc., and is a director of several private companies. He is a Trustee of the University of California, Berkeley Foundation and is a Berkeley Fellow.
Remo Jacuzzi
BS 58
Founder and President of Jason International
Jacuzzi is founder and President of Jason International, Inc., a leader in luxury hydrotherapy bathing systems. Previously he was President of Jacuzzi Brazil and Jacuzzi Brothers. In addition to his degree in business administration, Jacuzzi also holds a degree in mechanical engineering and played varsity football for the Cal Bears. In 2007, Jacuzzi published Spirit, Wind & Water, an epic memoir of his family history.
N.W. "Bill" Jasper, Jr.
MBA 71
Former President, Dolby Laboratories
Bill Jasper is a member of the Board of Directors at Dolby Laboratories. Prior to his retirement as President and CEO of Dolby Laboratories in March 2009, he served as CFO. He led Dolby's transition from an analog audio pioneer to a digital entertainment company, and oversaw the transition from an audio focus to expertise in both audio and video. Jasper is a member of the Audio Engineering Society, the Society of Motion Picture and Television Engineers, and an at-large member of the Academy of Motion Picture Arts and Sciences.
Joe Jimenez
MBA 84
CEO of Novartis
Joseph Jimenez is CEO of Novartis. Jimenez joined the company in 2007 as Division Head, Novartis Consumer Health and went on to serve as Division Head, Novartis Pharmaceuticals. Previously, he served as President and CEO of the North America business for the H.J. Heinz Company and as President and CEO of Heinz in Europe. He also held key positions with Astra-Zeneca and the Blackstone Group. He is currently a member of the Board of Directors for Colgate-Palmolive.
Dong Koo Kim
Friend of the Haas School
Founder and CEO of B.P. Industries, Inc.
Before founding B.P. Industries, an importer and wholesaler of home décor products in Ontario, California, Dong Koo Kim was a highly successful entrepreneur specializing in the international trade of general consumer goods in his native country, South Korea. Kim has long believed that investing in education is the most significant and lasting contribution he can make to society and the world of business.
Peter Kontes
MBA 74
Former Distinguished Faculty Fellow at Yale
The late Peter Kontes was executive-in-residence and distinguished faculty fellow at Yale University Graduate School of Management. He was the principal of the Greenwich Advisory Group and co-founder and chairman emeritus of Marakon Associates. Kontes served as vice president at Wells Fargo Bank and as assistant vice president at Bank of America.
Liong Tek Kwee
BS 68
Chairman of Pontiac Land Group
Kwee leads Asia's leading and most respected private-property developer. He is known for an unparalleled commitment to art and architecture. Among his accomplishments, he developed Millenia Singapore, a complex of award-winning hotels, office towers, and a retail mall featuring Singapore's largest contemporary art collection on public display.
Linda A. Lang
BS 80
Chairman of the Board and CEO of Jack in the Box
Lang heads a restaurant company with three brands comprising 2,400 units in 43 states. She also serves on the board of the Jack in the Box Foundation, the WD-40 Company, San Diego State University's College of Business Administration, and the San Diego Regional Economic Development Corporation.
John "Jack" Larson
BS 73
Founder, Chairman Emeritus, and President and CEO of Career Education Corporation
Larson founded and led one of the world's largest online and on-campus providers of private, for-profit postsecondary education. Under his leadership, Career Education acquired renowned brands including Le Cordon Bleu Schools North America and its revenues climbed to $2 billion annually with campuses in several countries. In 2000 he was named Ernst & Young's Entrepreneur of the Year for his region in the service category.
Georgia Lee
BS 76
CFO and Managing Director for Hellman & Friedman
Lee began her career in public accounting with KPMG and later joined Deloitte where she was elected a partner in the firm. She then joined private equity investment firm Hellman & Friedman as the CFO and managing director. Lee is a trustee of the University of California Berkeley Foundation where she currently chairs the audit committee. She is also a member of the Cal Parents Board.
Theodore B. Lee
JD 59, MBA 66
President of Urban Land Company
Theodore Lee currently serves as President of Urban Land Company, a privately held real estate investment and development firm operating in the San Francisco and Las Vegas areas. He also serves as Chairman of the Eureka Casinos of Las Vegas and Mesquite, NV.
Cathie Lesjak
MBA 86
EVP and CFO of Hewlett-Packard
A veteran of Hewlett-Packard for more than two decades, Cathie Lesjak was previously senior vice president and treasurer. She also managed financial operations for HP's Enterprise Marketing and Solutions and the Software Global Business Unit. Before that, she was group controller for the Software Solutions Organization covering five divisions with a $400 million research and development budget. Lesjak served as controller and credit manager for the Commercial Customer Organization and also managed HP's global channel credit risk.
Robert Lutz
BS 61, MBA 62
Retired Vice Chairman, General Motors
One of the most creative minds in the auto industry, Robert Lutz devised the idea for the Chevy Volt, a plug-in hybrid electric vehicle that has won global acclaim. For this and many other accomplishments, he earned the Haas School's Leading Through Innovation Award in 2011. Born in Switzerland, Lutz served as a jet-attack aviator in the U.S. Marine Corps and attained the rank of captain.
Alex Mandl
MBA 69
Executive Chairman of the Board of Gemalto
Mandl is Executive Chairman of the Board of Gemalto, a global leader in digital security. Before that he was respectively President and CEO of Gemplus, Chairman and CEO of Teligent, President and COO of ATT, Vice Chairman and CFO of ATT, and Chairman and CEO of SeaLand Services Inc. He serves on the boards of Dell Computer Corporation, Gemalto, Hewitt Associates, Horizon Lines, and Willamette University.
Paul Merage
BS 66, MBA 68
Chairman and CEO of Silverpoint Investments
After a career with US food manufacturers, Merage co-founded Chef America (specializing in frozen foods including Hot Pockets), and then sold in 2002. He is now Chairman and CEO of Silverpoint Investments and Chairman of Falcon Investment Management and Stoneridge Capital Partners. He is Founder and CEO of Children First, which serves underprivileged children through involvement with seniors in the community.
Carol Meyer
BS 69, MBA 71
Chairman/VP of Sales and Marketing of Greenbriar Homes, Inc
Carol Meyer is Chairman/VP of Sales and Marketing of Greenbriar Homes, Inc. She has 20+ years of experience in design, construction, marketing, and sales of high-end production homes, and over $1 billion in total sales. She has received numerous industry awards and was the MAME Marketing Director of the Year in 1995. She is also active in community projects that provide housing for the homeless.
Norman Y. Mineta
BS 53
Former U.S. Congressman
After serving on the San Jose City Council and as mayor, Mineta was a congressman for 20 years. He was secretary of commerce under Clinton and secretary of transportation under Bush, guiding the creation of the Transportation Security Administration following 9/11. Since leaving public service, Mineta has been vice chairman of Hill & Knowlton. In 2007 he was awarded the Presidential Medal of Freedom.
Jorge Montoya
MBA 71
Former Procter & Gamble Executive
Montoya was president, Latin America and president, global snacks and beverages for Procter & Gamble. Under his guidance, profits in Latin America increased 20-fold and headquarters were moved from Cincinnati to Caracas. Management transitioned from expatriate to 100 percent Latin by 1995 to export talent by 1999. Currently Mr. Montoya serves as director on the boards of Gap Inc. and the Kroger Co.
Shantanu Narayen
MBA 93
President and CEO of Adobe Systems, Inc.
Narayen is President and CEO of Adobe Systems, Inc. He has strengthened Adobe's culture of innovation, expanded the company into new markets, and extended its product portfolio and global reach. Prior to Adobe, Narayen held management roles at Apple and SGI and was a co-founder of digital photo sharing pioneer Pictra, Inc. He holds five patents and is a frequent speaker at industry events.
Ikujiro Nonaka
MBA 68, PhD 72
Professor Emeritus at Hitotsubashi University
Nonaka is Professor Emeritus at Hitotsubashi University and Xerox Distinguished Faculty Fellow, IMIO, UC Berkeley. Nonaka was awarded the Purple Ribbon Medal by the Japanese Government, is the first Asian scholar elected a Fellow of the Academy of Management, and was recently named Eminent Scholar in International Management by the Academy. In 2008, Nonaka was named in the Wall Street Journal's "Twenty Most Influential Business Thinkers" ranking.
Robert G. O'Donnell
BS 65, MBA 66
Retired Portfolio Manager and Director, Capital Research and Management Company
Robert G. O'Donnell is a former chair of the UC Berkeley Foundation and a member of the Chancellor's executive advisory council and the library advisory board. He has been a pro bono lecturer at Haas for more than 10 years, sharing his insights from a successful career. In 2011, Haas named him its Business Leader of the Year. In 2014, the Robert G. O'Donnell Courtyard was dedicated at Haas.
Paul S. Otellini
MBA 74
Former President and CEO of Intel
The late Paul Otellini led Intel for eight years, beginning in 2005. After joining the company in 1974, he held a variety of positions, including head of sales and marketing worldwide and overseeing microprocessor and chipset businesses. He led the introduction of the Pentium processor in 1993. In 2006 he was honored as the Haas School's Business Leader of the Year.
Lior Reitblatt
MBA 88
President & CEO of Super-Pharm (Israel) Ltd.
Reitblatt is President & CEO of Super-Pharm, a $1 billion international drugstore chain. He was named "International Retailer of the Year" by the magazine Chain Drug Review and is among D&B's Top 10 Israeli Business Leaders. He served on the boards of Office Depot Israel, Toys "R" Us Israel, and Blockbuster Israel. He is also President of the Juvenile Diabetes Foundation.
John Riccitiello
BS 81
Former CEO, Electronic Arts
John Riccitiello led the transformation of Electronic Arts (EA) from a packaged goods game company to a global leader in interactive entertainment. Under his leadership, EA saw an aggregate increase in game quality and its online, mobile, and digital revenues grew to exceed $1.6 billion. Earlier in his career, he was president and CEO of Wilson Sporting Goods then Sara Lee. He also held executive positions at Häagen-Dazs, PepsiCo, and Clorox. He currently serves on the Haas School Board and on the Board of Councilors for the USC School of Cinematic Arts.
Paul Rice
MBA 96
President and CEO, Fair Trade USA
Paul Rice founded Fair Trade USA, the leading third-party certifier of Fair Trade products in the U.S. Previously, Rice was a rural development specialist in Nicaragua and founder and CEO of PRODECOOP, an organization representing 3,000 small coffee farmers. He earned the prestigious international Ashoka Fellowship for his pioneering work as a social entrepreneur and was named one of the world's top 40 Social Entrepreneurs by the Klaus Schwab Foundation. In 2014, Rice became a Berkeley Haas executive fellow.
Michaela Rodeno
MBA 80
CEO, St. Supéry Winery (retired)
Rodeno was the first CEO of St. Supéry Vineyards and Winery, serving for 21 years until retiring to the board. Previously, she was VP of marketing for Domaine Chandon. Rodeno has served on the boards of the California Wine Institute and the Napa Valley Vintner's Association and is a director of Silicon Valley Bank. She chaired the Napa Valley Wine Auction in 1998, raising $3.8 million for health care organizations.
Andrew Rudd
MBA 76
Founder, Chairman, and CEO of Advisor Software
Rudd leads Advisor Software, which improves financial institutions' quality and delivery of investment advice to high-net-worth individuals. He also co-founded and was chairman and CEO of Barra, Inc. (now MSCI Barra). Rudd taught at Berkeley Haas and Cornell University and has published books and articles on investment practices and theories. He is an associate editor for Financial Analysts Journal, Journal of Portfolio Management, and Journal of Investing.
Jack F. Russi
BS 82
Vice Chairman/National Managing Partner of Corporate Development at Deloitte
In his role at Deloitte LLP, Russi oversees mergers and acquisitions, divesture of underperforming assets and services, and accelerating growth of specific market opportunities. He is involved with the California Performance Review Panel, Jefferson Awards for Public Service Board, Initiative for a Competitive Inner City, Project Homeless Connect, Bay Area Council, and Catholic Youth Organization sports programs. Russi serves on the Haas School Board.
Arun Sarin
MBA 78
Former CEO of Vodafone
After a distinguished career on the forefront of the emerging cellular and wireless communications industry, Sarin became Chief Executive Officer of Vodafone Group Plc. He was appointed to the Court of Directors of the Bank of England and was a Non-Executive Director of Gap, Inc., the Charles Schwab Corporation, and Cisco Systems Inc. Sarin currently serves on the Haas School Board.
Thomas Schneider
MBA 62
E-Commerce Pioneer
After leaving the Lawrence Radiation Laboratories, Thomas Schneider focused on e-commerce, and in 1969 he developed the systems that led to the first automatic execution of security trades. In 1970 he began an association with Dean Witter, playing a key role in the 1977 merger of Morgan Stanley and Dean Witter. Schneider was named the Haas School's Business Leader of the Year in 1999.
Donald H. Seiler
BS 49, MBA 50
Founder, Seiler, LLP
After years of public accounting work, the late Donald Seiler established a sole proprietorship in 1957 which became Seiler, LLP. He was involved with real estate, venture capital, nonprofit and for-profit business operations and served as a director of Ross Stores and various charitable organizations. He received the 1989 Community Service Award from the California Society of Certified Public Accountants for his charitable work.
Barclay Simpson
BS 66
Founder and Chairman, Simpson Manufacturing Co.
The late Barc Simpson founded Simpson Manufacturing, a building products company with revenues of $700 million and 2,500 employees. He was a trustee of California College of the Arts, Chairman of UC Berkeley's Art Museum Board, and recipient of the 2004 Outstanding Bay Area Philanthropist Award and the 2005 UC Chancellor's award. Teaching reading to inner-city children was a major focus of his charity efforts.
Warren E. "Ned" Spieker, Jr.
BS 66
Managing Partner, Spieker Partners
Spieker Properties sold after the third largest IPO ever completed in real estate. Spieker is Managing Partner of Spieker Partners, a private real estate firm that develops and operates Continuing Care Retirement Communities. Spieker has received numerous awards in the areas of real estate and waterfowl conservation and was the Haas School's "Business Leader of the Year" in 1998. He currently serves on the Haas School Board.
Paul Stephens
BS 67, MBA 69
Chairman and Partner of Stephens Investment Management
Paul Stephens is a longtime leader in West Coast asset management and investment banking. Earlier in his career, he co-founded and served as managing director of RS Investments, a mutual fund group managing over $10 billion in assets, and co-founded Robertson Stephens & Company. As an adjunct professor, Stephens taught an investments class at Berkeley Haas from 1990–1999. He was named a Berkeley Fellow in 2002.
Trevor Traina
MBA 96
Entrepreneur and Private Investor
While studying at Haas, Trevor Traina founded CompareNet, a company that broke new ground in comparison shopping that he later sold to Microsoft. He also served as chairman of StepUp Commerce, which was sold to Intuit. He is currently chairman and founder of SchemaLogic and president of Traina Capital. Traina serves on the boards of the Fine Arts Museums of San Francisco and California Pacific Medical Center.
Henry Trione
BS 41
Entrepreneur and philanthropist
The late Henry Trione's business dealings in finance, real estate, lumber, and wine making led to the development of the city of Santa Rosa, Calif. He began by founding the Sonoma Mortgage Company, which merged with Wells Fargo Bank in 1968. Among other philanthropic endeavors, he helped establish Annadel State Park, Empire College, Santa Rosa Memorial Hospital, Wells Fargo Center for the Arts, and the Volunteer Center of Sonoma County. He was also a founding investor in the Oakland Raiders, securing three Super Bowl rings before selling his interest. Trione credited luck and strong partnerships for his success. His advice: "Whatever business you get into…you have to commit yourself completely to it." He also advocated for a sense of humor and having the confidence to put people at ease.
Miles Turpin
BS 55
Former Chairman and CEO of Grey Advertising's Western Division
After a distinguished advertising career, Turpin retired as chairman and CEO of Grey Advertising's Western Division. He has also served as a director of the Independent Colleges of Southern California and Hillside Home for Abused Children and as a trustee of the Tomas Rivera Policy Institute. Turpin says that "whatever success I have had in life, I have been aided, abetted, and supported by my wife, Ruth, all along the way."
John Woolard
MBA 97
VP of Energy, Google
John Woolard has more than two decades of energy technology sector experience as an executive, entrepreneur, and investor. Prior to leading BrightSource Energy, a developer of utility-scale solar power plants, he co-founded Silicon Energy, one of the first successful cleantech companies. Woolard has been a Crown Fellow at the Aspen Institute and serves on the advisory boards of the Energy Institute and Lester Center for Entrepreneurship at Haas.
Michael Yang
BS 83, MBA 95
Founder and CEO of Become.com
Yang came to the U.S. from Korea at age 14. After earning two degrees from Berkeley Haas, he founded mySimon.com, which was acquired by CNET for $700 million and went on to found Become.com, a leading Internet shopping search engine. He was a member of President George W. Bush's IT Advisory Council and a trustee of Handong University in Korea. Yang holds a third degree black belt in Tae Kwon Do.