Located inside Chou Hall, Cafe Think serves members of the Haas community and beyond. Some of the most exciting zero waste initiatives at Cafe Think have come from innovative programs and systems.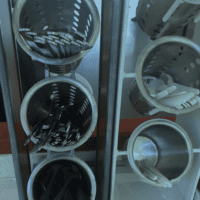 Eco-friendly Tableware
All tableware provided by the cafe is reusable, compostable, or recyclable. (plastics #1 or #2)
Reusables
Bring your reusable water bottle and coffee/tea mug to Cafe Think to receive $0.25 off drink purchases.
Plant-based Monday Specials
Cafe Think offers Monday specials that are plant based and vegan.
Like a library card, sign up for the Vessel Cup program and rent a cup for FREE! After finishing your beverage, you have 5 days to return it to a Strada cafe, including Strada Cafe, Free Speech Cafe and Cafe Think… plus many more.
Dine-In Program
As long as you are eating in the Haas ecosystem (e.g. Chou Hall, the courtyard, Cheit Hall, or the Faculty Building) order your meal "for here" to receive it on a reusable plate or bowl. Then return the dishware to the courtyard or Cafe Think bussing stations when finished.
Coffee Grounds for Compost
Coffee grounds are sent to UC Berkeley Gill Tract Farm for compost.
Cooking Oil as Biodiesel
Leftover cooking oil is recycled and repurposed as biodiesel.
Bulk Bin Snacks
Cafe Think offers a variety of snacks via bulk bins so individuals can get the amount of snacks they desire with less packaging waste.