Within an hour of Berkeley Haas, you can talk to the people who built Facebook and Google from the ground up or experts on viral growth.
Want to learn about the SaaS business model? Reach out to the companies that set the SaaS standard, like Salesforce, Box, and Evernote.  Just about every week, leaders from the business world are on the Berkeley Haas campus to speak to classes and in larger settings.
At Berkeley Haas, you'll learn from a world-renowned research faculty who are thought leaders in their fields.  Additionally, our professional faculty—leading practitioners in their respective fields—provide practical, real-world experiences across all fields of study.  The combination is a powerful learning approach that incorporates cutting-edge thinking with practical marketplace approaches to create a learning environment like no other.
The Dean's Speakers Series brings preeminent business leaders to Haas, providing our community insightful perspectives on effective leadership and the opportunity for thought provoking discussions on current topics facing the business community and the world at large.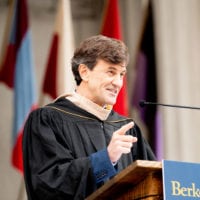 Berkeley Haas always brings distinguished speakers to give the commencement keynote address. In recent years these speakers have been some of the school's own distinguished alumni.