No matter where you are on your personal or professional path, there's a way to keep learning and gaining new skills at every step. That's where we come in. You have an expanding set of tools and resources at your fingertips. Build your personal brand, find new leads, or plan ahead for the future. With our career management resources, your next move will always be your best.
Whether you're just beginning your professional life or making a career change, be sure to utilize your alumni benefits.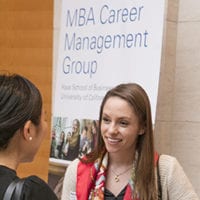 Connect with an advisor, search for jobs, build your personal brand, and attend workshops through CMG Bears.
We make it easy to connect with a diversely talented, global alumni community united by a commitment to excellence and innovation. List a job free of charge.